A collective winter market
Coming this winter to Sky Hangar in Pitt Meadows!
Join us on November 15 + 16 for one-of-a-kind event that features local small shops and emerging brands.
A VIP Sip + Shop is taking place on November 15 for local bloggers and influencers from 4pm - 6pm. This event is invite only. If you'd like more information on how to become involved, click here. Enjoy delicious, natural drinks from WIZE, tasty treats and more!
The market opens to the general public at 6pm.
On November 16th, the market is open to the general public from 10am-6pm.
Shoppers will enjoy live music, a holiday lounge, giveaways, a photowall from Pretty Little Flower Wall and more!
RSVP now here!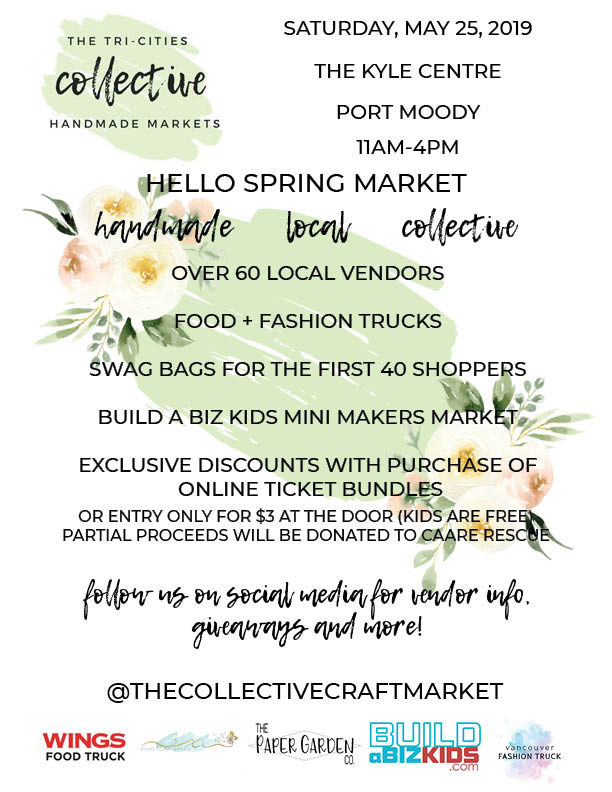 Our feet are SO sore but, our hearts are SO full. 🖤
We are BLOWN away with all of the support we received yesterday!
We welcomed over 400 shoppers to our Hello Spring Market 🙌🏼
It feels surreal to see how much excitement there is for local / handmade shops in this community.
Cannot believe how many of you waited in the pouring rain!!!!
Thank you to every single one of our vendors, sponsors, family and friends. There is no way we could have done this without you.
We've got many exciting plans for 2019. Stay tuned, friends 😍
Words cannot express how thankful we are for all of the support we received for our first market!
Thank you to our amazing vendors for believing in us, thank you to the hundreds of shoppers who chose to support local this holiday season and a huge thank you to our family and friends for all your help putting this event on, we couldn't have done it without you!
After a hugely successful first market we are already in the beginning stages of planning and even bigger, better market for Spring 2019!